HUSQVARNA GRASSTRIMMERS & STRIMMERS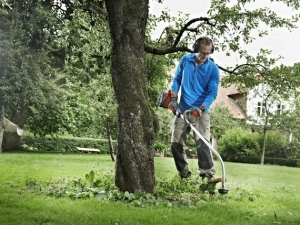 115iL
We offer you reliable strimmers with power and a multitude of uses. They are all easy and flexible to handle thanks to their low weight and smart features. You don't have to worry about disturbing your neighbours, as Husqvarna Grass trimmers are designed to generate as little noise as possible – ideal if you live in residential areas.
Smart Start® your perfection
Since the engine and starter in many of our petrol strimmers have been equipped with the unique Smart Start® function you will be able to start quickly with minimum effort. Husqvarna grass trimmers are provided with an auto return stop switch. It means that when the machine is turned off, the stop switch automatically returns to the start position for easier starting. This way your grass strimmer will be ready for use again, whenever you are.
If noise is an important aspect for you, a battery-powered cordless strimmer is a good choice. Our quiet, lightweight, balanced and easy-to-use strimmers will get the most demanding tasks done. They feature excellent ergonomics, balance and high performance.
They are provided with Lithium-ion batteries, which deliver unsurpassed, long-lasting power and come in a range of capacities. With our efficient charger it will only take 50 minutes until you have full power again. With two batteries at hand you can work non-stop all day. All-round with many accessories.
All-round with many accessories
Gardens are as unique and different as people. You can easily customise your grass-strimmer to suit each season and the specific needs of your garden. These combi trimmers are a versatile tool that delivers reliable results all year around. Just add one of our many accessories.
Intuitive controls
The choke and purge are easy to reach and understand.
Smart Start®
The engine and starter have been designed so the machine starts quickly with minimum effort. Resistance in the starter cord is reduced by up to 40%.
Comfort handle
Soft-grip handles for optimum comfort.
X-Torq® engine
The X-Torq® engine design increases torque over a wider rpm range providing maximum cutting power.
Contact us for latest prices, sales and service:
01295 211 790
HUSQVARNA Battery Trimmer Kit 115iL
115iL
>>