DRAPER 120L 230V Submersible Water Pump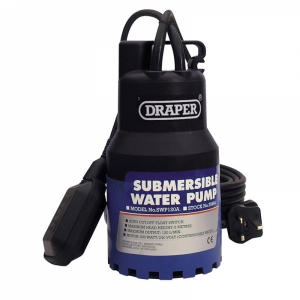 35464 still available
120L/Min 230V Submersible Water Pump with 6M Lift and Float Switch (200W)
DIY/domestic use in and around the home and garden. Ideal for irrigating gardens, draining cellars/basements and powering waterfalls/fountains. Ceramic shaft for long life, thermal overload protection and float switch which automatically cuts pump off when water level has dropped. Supplied with 19mm diameter hose adaptor and 10M (approx.) cable. Display carton.
Maximum head height ... 6M
Maximum output ... 120L/min
Hose Height - Approx. Output ... 1.5M - 80L/min
3.0M - 55L/min
5.0M - 25L/min
Maximum water temperature ... 35°C
Maximum particle size ... 4mm dia.
Output aperture ... 25mm dia.
Contact us for latest prices, sales and service:
01295 211 790