PORTEK Quiksplit 7 ton Logsplitter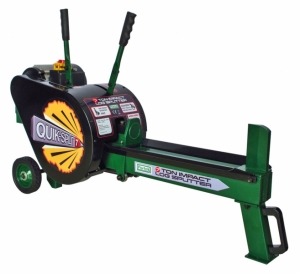 099 still available
The Portek QuikSplit is the fastest log-splitter on the market today: now with improved 7 ton impact
The QuikSplit is a super fast, portable, powerful machine, with a build quality you expect from Portek. With a convenient handle, strong chassis and wheels, the QuikSplit can easily be positioned on any flat ground, ready to start work. Two large spinning flywheels, powered by a 1.5kw electric motor, drive the powerful ram with a force of 7 tonnes. The machine uses kinetic energy to hit your logs with high impact; cutting them quickly and safely.
For the release mechanism, two hands are needed. One to engage the drive mechanism, the other to release the ram. The ram springs back in no time at all, ready for the next log. The heavy duty steel guards ensures you are safe from the mechanics – and the safety switch is located next to the handles, for extra fast stopping if required.
WORKS AS FAST AS YOU CAN!
Uses kinetic energy to split your logs - FAST!
Has a high impact force of 7 tonnes
Portable and easily positioned
Can cut through tough knotty wood
Easy to use
Contact us for latest prices, sales and service:
01295 211 790