HUSQVARNA Ride-on Mowers and Garden Tractors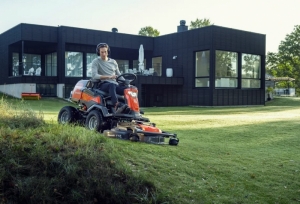 R112C
R213C
R 214C
TC 38
TS 138
With front-mounted cutting deck and articulated steering, Husqvarna's Ride-On mowers offer superior manoeuvrability and great accessibility to all areas of your garden or field.
All Husqvarna's sit-on mowers use Husqvarna's ingenious BioClip® feature which produces a superior mulching result and an exceptional professional finish.
Since a Husqvarna Garden and Lawn Tractor is operated with pedals it enables you to steer with both hands. It gives you both comfort and control whilst ensuring safe operation whenever. It doesn't matter what kind of lawn you are facing. By choosing between three different cutting systems – collecting, mulching (BioClip) or ejecting - you can secure a good result no matter what.
Bushes and trees are no problem either. Thanks to the unique steering technology you can easily cut around obstacles of any kind. The result is less uncut areas, efficient mowing and full manoeuvrability.
Contact us for latest prices, sales and service:
01295 211 790
HUSQVARNA Cutting Decks
Cutting decks
>>
HUSQVARNA Garden Tractor TC 38
TC 38
>>
HUSQVARNA Rider R 213 C
R 213 C
>>
HUSQVARNA Rider R 214 TC
R 214 TC
>>
HUSQVARNA Small Garden Tractor
TS 138
>>

HUSQVARNA Small Ride On Lawn Mower
R112C
>>