HUSQVARNA HEDGE TRIMMERS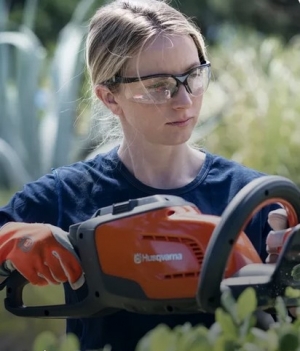 122 HD45
122 HD 60
115i HD 45

Our cordless battery and petrol hedge trimmers are ideal for jobs around the garden - regardless of whether your hedge is small with eye catching detail or you need to use an extendable hedge trimmer to create a tall and lush masterpiece. You will be able to work a long shift whenever you need, as a Husqvarna hedge trimmer will always provide you with strong performance and long lasting power in a trouble-free way.
Maximise your working time
Working on battery power with our cordless hedge trimmers will not slow you down. Our lightweight and quiet cordless battery trimmers will allow you to maximise your working time thanks to a powerful new battery pack, giving you all of the performance of a petrol hedge trimmer
All-round safety and comfort
You can be sure your Husqvarna hedge cutter will be all-round safe and comfortable to use. The rear handle is adjustable enabling you to cut the sides and top of your hedge and the extended cutter on the long reach pole hedge trimmer makes light work of the tallest hedges. Full adjustability also makes our trimmers less tiring to work with.
Many Husqvarna petrol hedge trimmer models are equipped with an auto return stop switch, meaning that when the machine is turned off, the stop switch automatically returns to the start position for easier starting. This way your trimmer will be ready whenever you are.
Your working conditions are our concern. That's why we have put so much thought into the ergonomic details. The effective anti-vibration dampeners on all our Husqvarna hedge trimmers absorb vibration, sparing your arms and hands from soreness. And thanks to the engine position exhaust fumes on our petrol hedge trimmers are diverted away from you, and for additional comfort certain models also have soft-grip handles.
Long reach hedge trimmers
Maintaining tall hedges can often be a troublesome task and often involves a ladders. Long reach hedge trimmers allow you keep keep your feet on the ground and work safely. The perfect pole hedge cutter is well balanced and allows you to keep the trimmer upright without fighting against gravitational forces. An extendable hedge trimmer (often referred as telescopic hedge trimmers) like the Husqvarna 325HE3 allows you to change the length of the shaft depending on the height of the hedge you are cutting.
Contact us for latest prices, sales and service:
01295 211 790
HUSQVARNA Battery Hedge Trimmer Kit 115i HD45
115i HD45
>>

HUSQVARNA Hedgetrimmer 122 HD 45
122 HD 45
966 53 23-01
>>

HUSQVARNA Hedgetrimmer 122 HD 60
122 HD 60
966 53 24-01
>>