Raptor Truck Bed Liner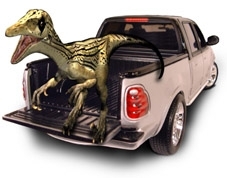 U-POL
This U-POL RAPTOR Truck Bed Liner is a durable 2K polyurethane coating that provides surfaces with a protective barrier.
RAPTOR Tintable Truck Bed Liner is also available.

2K paint designed for applying to the rear bed of pick-up trucks
U-POL's top-class super-tough durable 2-pack urethane coating against rust, corrosion, salt, damp and extreme temperatures.
super-durable spray-on liner that restores truck beds to a glorious finish
Restores even the most worn and uneven truck beds or van floor to new pristine-look finish.
Dries rapidly to give scratch and stain-proof surface that is also U.V. resistant.
High adhesion, waterproof, flexible, helps deaden sound & vibrations.
Easy and quick to use, as simple as: FILL - SHAKE - SHOOT®
Features & Benefits
Kits contain 4 x 750ml bottles of base and 1 x 1L of hardener.
Enough material to re-spray the largest truck beds.
Apply with schutz gun, roller or brush to obtain different textures.
Choice of pot life/dry times controlled by the speed of the hardener.
Code
Size/Pack
Colour
Ctn
RLB/1
750ml bottle
Black
6
RLB/S4
4L kit
Black
1
RLT/1
750ml bottle
Tintable
6
RLT/S4
4L kit
Tintable
1
Contact us for latest prices, sales and service:
01295 211 790