Beta Active 15kg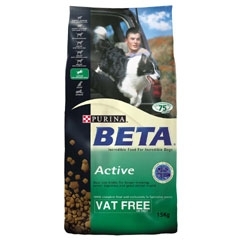 BA
Specifically developed for working and sporting dogs.
Available in 3kg and 15kg bags.
Prolonged periods of strenuous activity mean that a very active dog can use twice as much energy than normal.
Therefore, BETA Active is a high energy food with the oils and proteins needed to meet these requirements.
Additional Vitamin E (up to 25% more than BETA Adult varieties) is another key ingredient, helping to protect muscles and ligaments during and after exercise
Contact us for latest prices, sales and service:
01295 211 790